more >>
About Bohai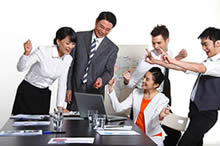 Bohai Industrial Wire Belt Co., Ltd. is specializing in design and producing of industrial woven wire mesh for filtration and drying applications.

Our products include: Polyester woven mesh screen, belt filter press belt, Polyester spiral mesh, Polyester filter press dewatering mesh screen and Polyester forming mesh for paper making machine fabric,Polyester screen in waster water treatment. Stainless steel woven Industrial Wire Mesh, industrial conveyor wire belt, plain weave wire mesh, Dutch weave wire mesh, twill weave wire mesh, balance weave wire belt, horizontal weave, herringbone weave wire belt.

Our filter belt wire mesh are mainly used in the mining and metallurgical industry, waster water treatment, foodstuff processing, fruits extracting, paper making. But the stainless steel belts sometimes do used for decorative and architectural.

Bohai Industrial Wire Belt Co.,LTD focus to supply high quality products to our customer and set up long-term business relationship with our partner. We are glad to offer the samples when you request and welcome to see your inquiry ...
more >>
Customer Service
We offer honest service to customers. Bohai focus to export high quality product with the backing support of advanced technology and equipment, scientific management, strict quality control and improve the technology all the while.




We accept customized orders. Our strong R&D capability enables us to innovate almost everyday.